OUR PRESCRIPTION MEDICINE
Fahrenheit's Prescription Pharmaceuticals Division features a complete product range for all segments, from unbranded generic drugs, branded generics up to licensed drugs. These products are distributed to hospitals, pharmacies and drug stores across the archipelago through an integrated distribution network.
Nelandoz- Cyprodiol
We proudly introducing our new portfolio in obgyn segment which is Nelandoz and Cyprodiol.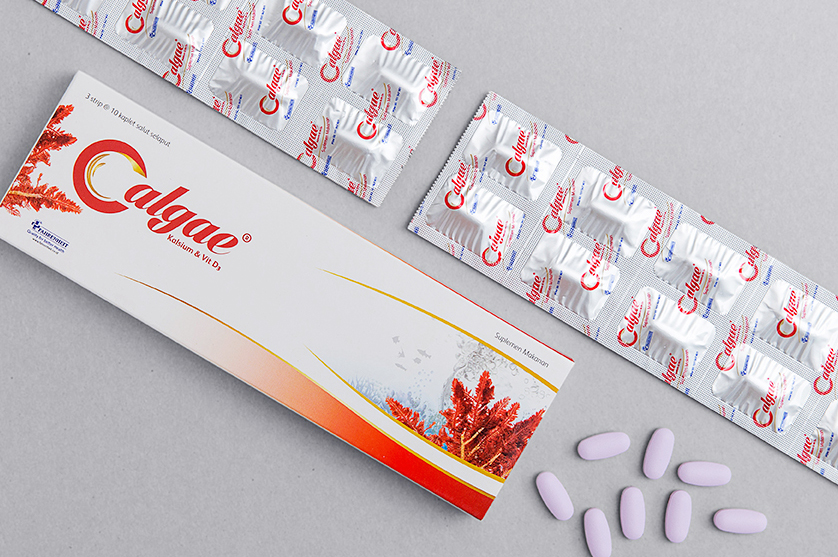 Calgae
Calcium source is from Algaecal, an uniue blend of organic Alga calcareas containing 12 trace minerals and Vitamin D-3, which accelerates calcium absorption.
OUR FULL PRODUCT PORTFOLIO
ALIMENTARY PRODUCT
No
Product
Composition
Packing
1
Estazor
Ursodeoxycholic acid 250 mg
Box @ 30 caps
2
Dmensol
Per serving contain Carbohydrate 31 g, Protein 11 g, Fat 6 g (Calorie 220 Kcal)
Box @ 160 g
3
Farmacrol Forte Suspension 100
(Simetikon 125 mg, Mg(OH)2

 

100 mg, Al(OH)3

 

200 mg)/ 5 mL
Box @ 1 bottle 100 mL
4
Farmacrol ForteSuspension 200
(Simetikon 125 mg, Mg(OH)2

 

100 mg, Al(OH)3

 

200 mg)/ 5 mL
Box @ 1 botlle 200 mL
5
Farmacrol Forte tab
(Simetikon 125 mg, Mg(OH)2

 

100 mg, Al(OH)3-MgCO3

 

275 mg
Box @ 100 tab
6
Fosen enema
Monobasic Na fosfat 19 g, Dibasic Na fosfat 7 g
Box @ 1 enema
7
Inpepsa suspension
Sukralfat 500 mg/5 mL
Box @ 1 bottle 100 mL & 200 mL
8
Irbosyd
Mebeverine 135 mg
Box @ 30 tab
9
Laxasium suspension
Magnesium Hydroxide Mg(OH)2

 

400 mg/5 mL
Box @ 1 bottle 100 mL
10
Octide
Octreotide 0,1 mg/ mL
Box @ 5 amp
11
Onetic 4 tab
Ondansetron 4 mg
Box @ 10 tab
12
Onetic 4 inj
Ondansetron  4 mg/2 mL
Box @ 5 amp
13
Onetic 8 inj
Ondansetron  8 mg/4 mL
Box @ 5 amp
14
Ornitine L Aspartat
Ornitine L Aspartat 5 g/10 mL
Box @ 1 vial
15
Ornitine L Aspartat granule
Ornitine L Aspartat 3 g
Box @ 10 sachet
16
Pralax
Laktulosa 3,335 g/ 5 mL
Box @ 1 bottle 100 mL
17
Prazotec
Lansoprazole 30 mg
Box @ 20 caps
18
Prazotec Inj
Lansoprazole 30 mg
Box @ 1 vial
19
Pregvomit
Pyrathiazinezin 40 mg, Vit B6

 

37,5 mg
Box @ 100 tab
20
Renatac tab
Ranitidine 150 mg
Box @ 100 tab
21
Renapepsa
Famotidine 20 mg
Box @ 30 tab
22
Rhodium
Micronized diosmin 450 mg, Hesperidin 50 mg
Box @ 30 tab
23
Rindopump inj
Omeprazole 40 mg
Box @ 1 vial
24
Sysmuco
Rebamipide 100 mg
Box @ 30 tab
25
Venodenol 3
Polidocanol 60 mg/ 2 mL
Box @ 5 amp
ANAESTHESIA PRODUCT
No
Product
Composition
Packing
1
Anesfar
Midazolam 5 mg/ 5 mL
Box @ 5 amp
2
Bunascan Spinal

 

0.5% Heavy
Bupivacain 20 mg/ 4 mL (Hiperbaric)
Box @ 5 amp @ 4 mL
3
Bunascan 0,5%
Bupivacain 5 mg/ mL (Isobaric)
Box @ 5 amp @ 20 mL
4
Farelax
Atracurium besylate 50 mg/5 mL
Box @ 5 amp
5
Nokoba
Naloxone 0,8 mg/ 2 mL
Box @ 5 amp
6
Terrell 100
Isoflurane
Box @ 1 bottle 100 mL
7
Terrell 250
Isoflurane
Box @ 1 bottle 250 mL
8
Vopicain

 

0,5%
Levobupivacaine 5 mg/mL
Box @ 2 vial 10 mL
ANALGETIC PRODUCT
No
Product
Composition
Packing
1
Farmadol

 

Infusion 100
Paracetamol 1 g/100 mL
Box @ 1 vial 100 mL
2
Farmadol Infusion 50
Paracetamol 500 mg/50 mL
Box @ 1 vial 50 mL
3
Farmadol tab
Paracetamol 500 mg
Box @ 100 tab
4
Farpain

 

tab
Ketorolac 10 mg
Box @ 20 tab
5
Farpain Inj
Ketorolac 30 mg/mL
Box @ 5 amp
6
Fendex
Dexketoprofen 25 mg
Box @ 30 tab
7
Fendex inj
Dexketoprofen 50 mg/2 mL
Box @ 5 amp
8
Peinlos 400
Ibuprofen

 

400 mg/4 mL
Box @ 5 vial
9
Peinlos 800
Ibuprofen 800 mg/8 mL
Box @ 5 vial
10
Recolfar
Colchicine 0,5 mg
Box @ 30 tab
11
Tramset
Tramadol 37,5 mg, Parasetamol 325 mg
Box @ 30 tab
12
Umarone
Hyaluronic acid 20 mg/2 mL
Box @ 1 vial
13
Zorvolex 18
Diclofenac

 

acid 18 mg
Box @ 30 tab
14
Zorvolex 35
Diclofenac acid 35 mg
Box @ 30 tab
ANTIBIOTIC & ANTIFUNGAL PRODUCT
| No | Product | Composition | Packing |
| --- | --- | --- | --- |
| 1 | Aspil | Cefotiam 1 g | Box @ 2 vial |
| 2 | Bizan | Doripenem 500 mg | Box @ 2 vial |
| 3 | Cefir | Cefpirome 1 g | Box @ 2 vial |
| 4 | Clatax | Cefotaxime 1 g | Box @ 2 vial |
| 5 | Cryptal 50 | Fluconazole 50 mg | Box @ 4 tab |
|  6 | Cryptal 200 | Fluconazole 200 mg  | Box @ 4 tab |
|  7 | Cryptal infusion | Fluconazole 200 mg/100 mL | Box @ 1 vial |
| 8 | Elpicef  | Ceftriaxone 1 g | Box @ 2 vial |
| 9 | Farlev 500 | Levofloxacin 500 mg | Box @ 10 tab |
| 10 | Farlev 500 infusion | Levofloxacin 500 mg/ 100 mL | Box @ 1 vial |
| 11 | Farlev 750  | Levofloxacin 750 mg | Box @ 10 tab |
| 12 | Farlev 750 infusion | Levofloxacin 750 mg/150 mL | Box @ 1 vial |
| 13 | Farnat infusion | Metrodnidazole 500 mg/100 mL | Box @ 1 vial |
| 14 | Fixacep 200 | Cefixime 200 mg | Box @ 10 tab |
| 15 | Fixacep DS | Cefixime 100 mg/5 mL | Box @ 1 bottle 30 mL |
| 16 | Fixacep OD | Cefixime 30 mg/mL | Box @ 1 bottle  15 mL |
| 17 | Focyn 1 | Fosfomycin 1 g | Box @ 2 vial |
| 18 | Focyn 2 | Fosfomycin 2 g | Box @ 2 vial |
| 19 | Garena | Moxifloxacin 400 mg;  400 mg/250 mL | Box @ 10 tab; Box  @ 1 vial 250 mL |
| 20 | Iclofar | Valacyclovir 500 mg | Box @ 30 tab |
| 21 | Rapime  | Cefepime 1 g | Box @ 2 vial |
| 22 | Renasistin  | Cefadroxil 500 mg | Box @ 30 caps |
| 23 | Renasistin DS | Cefadroxil  250 mg/ 5 mL | Box @ 1 bottle 60 mL |
| 24 | Renasistin OD | Cefadroxil 150 mg/mL | Box @ 1 bottle 15 mL |
| 25 | Renator 500 | Ciproloxacin 500 mg | Box @ 30 tab |
| 26 | Ronem 1 | Meropenem 1 g | Box @ 2 vial |
| 27 | Ronem 0,5 | Meropenem 0,5  g | Box @ 2 vial |
| 28 | Sharox 500 | Cefuroxime 500 mg | Box @ 20 tab |
| 29 | Sharox 750 | Cefuroxime 750 mg/vial | Box @ 2 vial |
| 30 | Stabixin | Cefoperazone 1 g | Box @ 2 vial |
| 31 | Stabactam | Cefoperazone 500 mg + Sulbactam 500 mg | Box @ 2 vial |
| 32 | Vancep  | Vancomycin 500 mg | Box @ 2 vial |
| 33 | Vebac  | Aztreonam 1 g | Box @ 2 vial |
| 34 | Zibac  | Ceftazidime 1 g | Box @ 2 vial |
CARDIOVASCULAR & METABOLISM PRODUCT
| No | Product | Composition | Packing |
| --- | --- | --- | --- |
| 1 | Atofar 10 | Atorvastatin 10 mg | Box @ 30 tab |
| 2 | Atofar 20 | Atorvastatin 20 mg | Box @ 30 tab |
| 3 | Atofar 40 | Atorvastatin 40 mg | Box @ 30 tab |
| 4 | Bipro | Bisoprolol 5 mg | Box @ 30 tab |
| 5 | Blorec | Carvedilol 25 mg | Box @ 30 tab |
| 6 | Calsivas 5 | Amlodipine 5 mg | Box @ 30 tab |
| 7 | Calsivas 10 | Amlodipine 10 mg | Box @ 30 tab |
| 8 | Candefar 8 | Candesartan 8 mg | Box @ 30 tab |
|  9 | Candefar 16 | Candesartan 16 mg | Box @ 30 tab |
| 10 | Farmasal | Acetosal 100 mg | Box @ 100 tab |
| 11 | Farsix | Furosemide 40 mg | Box @ 100 tab |
| 12 | Iretensa 150 | Irbesartan 150 mg | Box @ 30 tab |
| 13 | Iretensa 300 | Irbesartan 300 mg | Box @ 30 tab |
| 14 | Miozidine MR | Trimetazidine 35 mg | Box @ 30 tab |
| 15 | Monecto 20 | Isosorbid mononitrate 20 mg | Box @ 30 tab |
| 16 | Pladogrel | Clopidogrel 75 mg | Box @ 30 tab |
| 17 | Prabetic 15 | Pioglitazone 15 | Box @ 30 tab |
|  18 | Prabetic 30 | Pioglitazone 30 mg | Box @ 30 tab |
| 19 | Renapar | K-L aspartate 300 mg, Mg-L aspartate 100 mg | Box @ 100 tab |
CRITICAL CARE PRODUCT
| No | Product | Composition | Packing |
| --- | --- | --- | --- |
| 1 | Fapresor | Metoprolol tartrate 5 mg/5 mL | Box @ 5 amp |
| 2 | Farhes 130 | HES 6% (molecule weight 130 KD) | Box @ 1 vial 500 mL |
| 3 | Fargoxin Inj | Digoxin 0,5 mg/2 mL | Box @ 5 amp |
| 4 | Farmabes inj | Diltiazem 25 mg/5 mL | Box @ 2 vial   |
| 5 | Farpresin | Vasopresin 20 IU/mL | Box @ 5 amp |
| 6 | Farsorbid Inj | Isosorbid dinitrate 10 mg/10 mL | Box @ 2 vial |
| 7 | Fartison | Hidrocortisone sodium succinate 100 mg | Box @ 2 vial |
| 8 | Inotrop       | Dobutamin 250 mg/10 mL | Box @ 2 vial |
| 9 | Inovad  | Milrinone 10 mg/10 mL | Box @ 2 vial |
| 10 | Tensilo  | Nicardipine 10 mg/ 10 mL | Box @ 2 vial |
| 11 | Tiaryt Inj | Amiodarone 150 mg/ 3mL | Box @ 5 amp |
| 12 | Vascon  | Norepinephrine 4 mg/ 4 mL | Box @ 5 amp |
FOOD SUPPLEMENT & VITAMIN PRODUCT
No
Product
Composition
Packing
1
Calgae
Algas Calcareas 750 mg, Vit D3

 

400 IU
Box @ 30 tab
2
Corsel
Ubidecarenone 30 mg + Levocarnitin 500 mg
Box @ 30 tab
3
Curmunos
Echinaceae 100 mg-Colostrum 300 mg-Kurkumin 2 mg-Vitamin
Box @ 1 bottle 60 mL
4
Farbion 
Vit B1

 

100 mg, Vit B6

 

200 mg, Vit B12

 

200 mcg
Box @ 100 tab
 
Farbion Inj
(Vit B1

 

100 mg, Vit B6

 

100 mg, Vit B12

 

5000 mcg)/3 mL
Box @ 5 amp
5
Glutafir 
Glutatione 100 mg, Vit C 150 mg, Vit E 50 mg
Box @ 30 caps
6
Goltrion
Echinaceae purpurea 250 mg + Astaxanthin 4 mg + Zn Picolinate 10 mg
Box @ 30 tab
7
Hytofar
Hydroxytyrosol 5 mg
Box @ 30 caps
8
Lactafar 
Fish oil (DHA + EPA) 200 mg, As folat 800 mcg, FOS 50 mg, Vit E
Box @ 30 soft capsule
9
Mangoflam
Garcinia mangostana extract 100 mg
Box @ 30 tab
10
Ostriol
Calcitriol 0,25 mcg
Box @ 30 softcapsule
11
Pomifar
Tumeric extract 75 mg + Green tea extract 75 mg + Pomegranate extract 75 mg + Broccoli extract 75 mg
Box @ 30 caps
12
Proferro
Iron Pyrophospate 325 mg (= Fe 26 mg)
Box @ 30 chewable tab
13
Rebal Plus
Mecobalamin 500 mcg, Vit B1

 

100 mg, Vit B2

 

200 mg
Box @ 100 caps
14
Vioxy FM
Vit E 300 mg, Vit C 250 mg, Folate Acid 300 mcg, Se, Zn, Cu, Mn
Box @ 30 tab
NEUROLOGY PRODUCT
| No | Product | Composition | Packing |
| --- | --- | --- | --- |
| 1 | Alzim  | Donepezil 5 mg | Box @ 30 tab |
| 2 | Falpro sirup | Asam valproat 250 mg/5 mL | Box @ 1 bottle  |
| 3 | Neufar  | Pregabalin 75 & 150 mg | Box @ 30 caps |
| 4 | Neurolin  | Citicoline 500 mg  | Box @ 30 tab |
|   | Neurolin 500 inj | Citicoline 500 mg/4 mL | Box @ 5 amp |
| 5 | Pratropil 800 | Piracetam 800 mg | Box @ 60 cap |
| 6 | Zolmia | Zolpidem 10 mg | Box @ 30 tab |
OPTHALMIC
| No | Product | Composition | Packing |
| --- | --- | --- | --- |
| 1 | Latanoprost Eye Drop | Latanoprost 50 mcg/mL | Box @ 1 bottle eye drop |
RENAL PRODUCT
| No | Product | Composition | Packing |
| --- | --- | --- | --- |
| 1 | Fosrenol | Lantanum Carbonate 500 mg | Box @ 90 chewable tablet |
| 2 | Inviclot  | Heparin 25000 IU / 5 mL | Box @ 5 vial |
RESPIRATORY PRODUCT
| No | Product | Composition | Packing |
| --- | --- | --- | --- |
| 1 | Eslor  | Desloratadine 5 mg; 0.5 mg/mL | Box @ 30 tab; Box @ 1 bottle 60 mL |
| 2 | Falergi tab | Cetirizine 10 mg | Box @ 60 tab |
| 3 | Falergi OD | Cetirizine 10 mg/mL | Box @ 1 bottle 20 mL |
| 4 | Farbivent for nebulization | (Salbutamol 2,5 mg , Ipratropium  500 mcg )/2,5 mL | Box @ 10 plastic tube |
| 5 | Farmavon inj | Bromhexin 4 mg/ 2 mL | Box @ 10 amp |
| 6 | Fartolin Expectorant | (Salbutamol 2 mg + Guaniphenesin 50 mg)/5 mL | Box @ 1 bottle 100 mL |
| 7 | Fartolin for nebulization | Salbutamol 2,5 mg/ 2,5 mL | Box @ 10 plastic tube |
| 8 | L-Falergi tab | Levocetirizine 5 mg | Box @ 10 tab |
| 9 | Midatro for nebulization | Ipratropium 0,5 mg/2 mL | Box @ 10 plastic tube |
| 10 | N-Ace for nebulization | N-asetil sistein 300 mg/3 mL | Box @ 5 amp |
|  11 | N-Ace  caps | N-acetyl cystein 200 mg  | Box @ 30 caps |
OTHER
| No | Product | Composition | Packing |
| --- | --- | --- | --- |
| 1 | Agrylin | Anagrelide 0,5 mg | Box @ 100 caps |
| 2 | Gabaxa | N(2) – L – Alanyl – Glutamine 20 g / 100 mL | Box @ 1 vial 100 mL |
| 3 | Gastrul  | Misoprostol 200 mcg | Box @ 30 tab |
| 4 | Lupred | Prednisolone 5 mg | Box @ 30 tab |
| 5 | Metacosfar | Iodixanol 320 mgI/ML | Box @ 1 vial 50 mL & 100 mL |
| 6 | Prohem  | Phytomenadione 2 mg/mL | Box @ 5 amp |
| 7 | Reprostom | Finasteride 5 mg | Box @ 30 tab |
| 8 | Resfar | Acetylcysteine 200 mg/mL | Box @ 1 vial 25 mL |
| 9 | Tracetate tab | Megestrol acetat 160 mg | Box @ 30 tab |
| 10 | Tracetate suspensi | Megestrol acetat 40 mg/mL | Box @ 1 bottle 100 mL & 200 mL |
| 11 | Xolmetras 300 | Iohexol 300 mgI/mL | Box @ 1 vial 50 mL & 100 mL |
| 12 | Xolmetras 350 | Iohexol 350 mgI/mL | Box @ 1 vial 50 mL & 100 mL |
| 13 | Hepcinat | Sofosbuvir 400 mg | Box @ 28 tab |
| 14 | Natdac | Daclatasvir 60 mg | Box @ 28 tab |